I am a huge fan of the Curly Girl line of cards (being a curly girl myself!) and have always remembered this one fondly:
I suspect it's because the concept of living imperfectly – and being OK with it – is one of those life philosophies that I want so badly to ascribe to, but struggle with tremendously. I'm not alone, at least.
On Thursday night I attended a talk by Dr. Yoni Freedhoff, generously hosted by Ottawa Public Health as part of their annual Health Day celebrations. You probably know Dr. Freedhoff as the author of The Diet Fix: Why Diets Fail and How to Make Yours Work; I first heard of him through Evil Sugar Radio, a podcast I listen to on occasion. I was incredibly impressed by outspoken (sometimes perceived as Contrarian) views on dieting and diet culture in general. Since then, I've been following him on Facebook, subscribe to his blog, and have even visited his Ottawa-based clinic to have metabolic tests run.
Needless to say, I was in serious fangirl-mode when I heard Dr. Freedhoff speak about the Mythology of Modern Day Diets. It's kind of a dream of mine to interview him for the blog, and an even bigger dream to one day work in some capacity at his office. Rather than summarize the whole talk, I wanted to discuss what I believe was the overarching theme of his presentation, and probably a pretty good summary of his philosophy on weight management. The concept? Imperfection. Mixed with a generous serving of consistently.
I recently heard that the 'best' diet is 90% 'on plan' 100% of the time. Essentially, you can be an imperfect "dieter," so long as you're consistent in your commitment to whatever your weight management plan is. Dr. Yoni really drove that concept home, concluding his talk by saying (I'm paraphrasing) that he hopes we all find an approach to weight management that we can do imperfectly, but indefinitely.
After the talk, I got to thinking about the bizarre unspoken belief in perfection that permeates our society. The dogma doesn't always present itself as 'perfection' proper – sometimes it's referenced as being a horse, or a wagon that you are on or off, depending on your diet performance of late. Or sometimes it's expressed as a moral judgment – "I was bad last night. I had  3 bowls of ice cream even though I said I was going to quit sugar." A woman in the audience asked Dr. Freedhoff why our provincial health care program (OHIP) doesn't cover weight management programs for everyone, to which he replied "Because there is no one program that's been shown to work unequivocally" (again, paraphrasing).
We're learning, based on countless peer reviewed studies, blog posts, personal testimonials and just about any other form of media you can imagine, that the wrench in most peoples' weight loss plans is that they 'slip up' and then promptly lash themselves for having gone astray. The guilt, anxiety, shame, and depression that follows major 'slips' causes many people to cease their weight loss efforts altogether, consume more of whatever led them down the rabbit hole to begin with, and repeat the guilt-restrict-binge/rebel cycle indefinitely until they are heavier and less healthy than they were when they began. For whatever reason, we, as a society, see to hold this inexplicable belief that once we pass into adulthood, we aren't allowed to make mistakes or even deviate from a path toward a goal. How does this make sense? Imagine if we taught children to react to setbacks or choices they regret the way that we, as adults, react?
"Oh honey you didn't study enough for your test and failed? Guess you better stop studying for every test from here on out!."
So maybe there's a case to be made for the development of a weight management program based predominantly on self-compassion and resilience – unconditionally. This would mean teaching people that even if you pulled a move a la Baxter from Anchorman: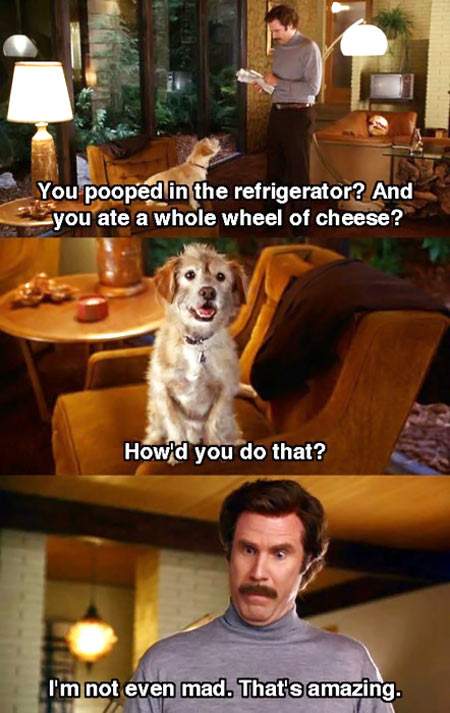 You would forgive yourself and resume your regularly scheduled food and exercise choices.  It stands to reason that if you drive a wedge somewhere in that guilt-restrict-binge/rebel cycle, you cut out the entire compensatory-eating component and essentially just have people making choices to benefit their goals most of the time, and sometimes making choices just for the hell of it…without padding the process with self-flagellation and self-punishing choices. What's more, building self-love capacity should generally lead most people to want to make better choices, anyways. Rather than making decisions about what to eat or whether to exercise based on what they "should" do, how they want to look, what they ate last night, how many calories they have left for the day, or whether they are going on vacation (and so on, and so forth), people equipped with self-love and self-trust (which I believe comes with self-love) would probably make choices with their physical and mental health, as well as their short and long-term goals, in mind.
And so I guess to me, the secret to lasting weight loss is self-love. The big question is: where and how do we start when that concept is so foreign to us?